PRODUCT:
 Envision a digital experience for legacy print readers of the LA Times. 
ROLE:
I was the IDEO project lead, managing the client relationship and a team of two designers, one content strategist, one user researcher, and one business designer.
IMPACT:
LA Times was delighted with the concepts and how we tackled the problem of migrating print readers to a digital platform in human and emotionally aware ways. As a result, the client signed a long-term project with IDEO.
Understanding print reader's rituals and behaviors to encourage the transition to digital
Our challenge was to inspire and delight, create connections between readers and the Times, and serve behaviors that exist today to forge new habits in our legacy readers. Keeping in mind utility and usability are baseline requirements.
For this project, we developed two scenarios. Each takes a different approach and looks at a different set of readers' routines and behaviors. On this page, I am sharing only the first scenario. 


Scenario:


LA Times as your 
Sage Companion
In this scenario, the digital reading experience is personal; it adapts to your interests, behavioral patterns, and habits. Unlike physical paper, it responds to your movements, choices, and journey. It is simple, providing the news you need and crave, and bypassing the noise of the outside world. It is unobtrusive, waiting earnestly at your fingertips for the moments when you need it most. 
It understands your haste and awaits your calm, feeding your unique appetite for information and inspiration in the right way and at the right time. It learns what matters most to you, what makes you laugh, and what time you catch the bus. It knows you. 
Editorial voice in harmony with personalization
Since it's a huge piece of news, the bombing coverage gets a prominent spot on the front page. The content he sees there is slightly influenced by what he's shown an interest in, but the editorial curation still reflects the LA Times' prioritization.
Responsive and tailored news experience to fit behavior patterns
John zooms out one level to see just the headlines.
He scans what's in the paper to find what he's interested in reading today, and marks those articles. 
Surfacing staff's hard work and commitment. Building a connection between staff and readers 
John is amazed by the photos of the manhunt and wants to learn more about the photographer and reporter responsible for bringing him this story. He zooms into the story behind the story.
Sunday Paper: bridging digital with comfort behaviors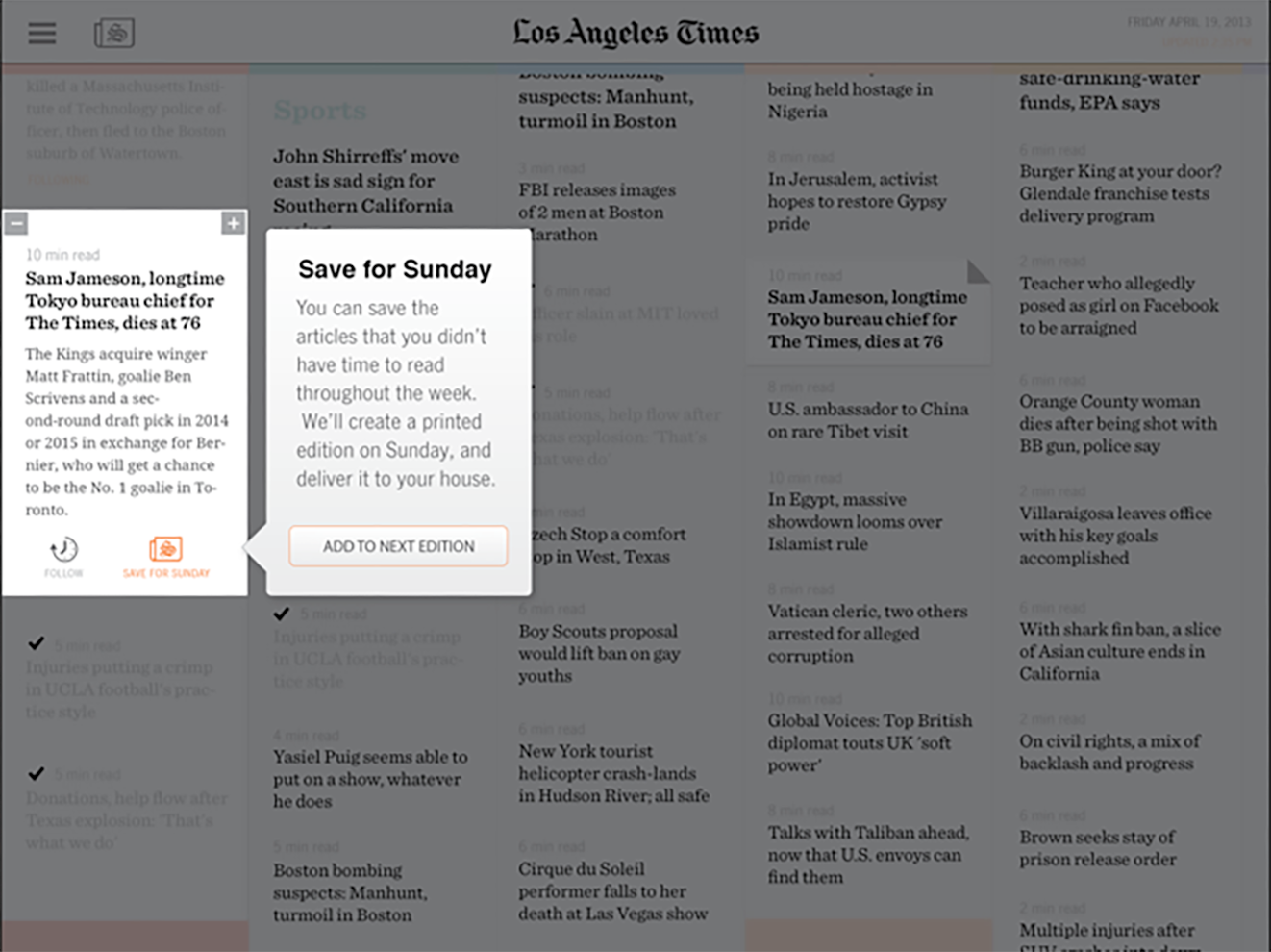 Continuity across devices and media
In this example, a subscriber is following the Boston bombing story. These three screens show how followed news is prioritized across platforms for seamless continuity.
Semantic Zoom for different reading modes 
People move between modes of reading behavior throughout the day, depending on the context. Environment, length of time allotted, and even mood can trigger a shift in mode.
Six zoom levels show varying degrees of fidelity on the news. They map to three modes of news reading behavior, and all help readers decide what to read in the LA Times.